POWER MAXED ARENACROSS TOUR SHAPES UP FOR SHEFFIELD BELTER
The morning session of the 2018 Power Maxed Arenacross Tour at the FlyDSA Arena, Sheffield, is now completed with reigning Pro champ Thomas Ramette (SR75 World Suzuki) maintaining his uber-fast speed throughout morning qualifying to head the combined time chart.
Ramette and Suzuki-mounted series leader Cedric Soubeyras (Team FRO Systems), were the only Pros to post a sub 26-second lap, with Ramette's average just edging Soubeyras. The Buildbase Honda French pairing of Fabien Izoird and Charles Lefrancois were next up, with Aussie battler Dan Reardon, I-Fly JK Yamaha, in fifth and top Brit Ashley Greedy (Team FRO Systems) rounding out the fastest top six.

With the hotly-contested Pro championship wide open, and any one of the top ten in with a mathematical chance of winning the title, this evening's event is set to be tense. The qualifying times tell the story as, with around a second separating the top 13 riders, and less than three seconds between the full line-up of 22 AX Pros, it's going to be tight.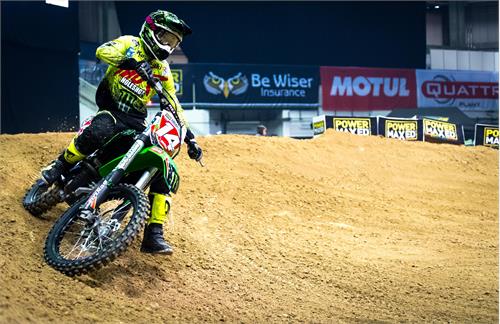 It was business as normal in the Pro Lites category with runaway series leader Joe Clayton (Team Green Holeshot Kawasaki) qualifying first with an average time of 27.785, whilst a nano-second separated Chris Bayliss (Wooldridge Demolition) and Jason Meara (I-Fly JK Yamaha) in second and third.

In the morning's behind-closed-doors Youth races, Carl Osterman won the Supermini class, followed over the line by Buster Hart and Raife Broadley. This leading trio were the only ones to complete eight laps of the FlyDSA Arena AX circuit. In the 65cc group, Shaun Mahoney won the race in convincing style and jumped to the top of the championship leaderboard in the process. Zane Stephens collected second in the race and championship, whilst Kyron Carron finished third. Harvey Antrobus finished sixth, dropping him to third overall in the championship, but with another race tonight, this could all change again.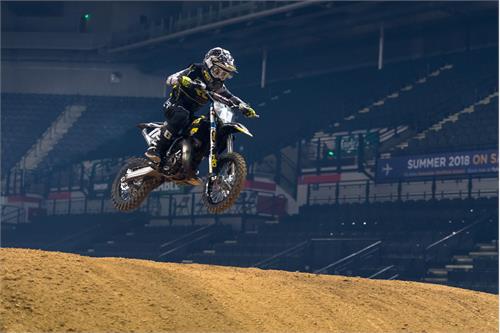 With much to play for across all classes, and a track viewed by many of the riders as the best of the Tour so far, making for ultra-tight racing, this evening's sixth round is going to be a real humdinger.

Pro Qualifying
1. Thomas Ramette, 25.9
2. Cedric Soubeyras, 26.211
3. Fabion Izoird, 26.454
4. Charles LeFrancois, 26.527
5. Dan Reardon, 26.536
6. Ashley Greedy, 26.586
7. Cyrille Coulon, SR75 World Suzuki, 26.709
8. Julien Lebeau, I-Fly JK Yamaha, 26.717
9. Nique Thury, MVR-D St Blazey Husqvarna, 26.759
10. Adrien Escoffier, MVR-D St Blazey Husqvarna, 26.794

Doors open at 6.30pm and the action gets underway at 7.30pm.

Tickets are available on the door or from the Arena box office - 0114 256 5656.

Pictured:
1. Thomas Ramette posted the fastest qualifying time at Sheffield and is just two points behind series leader Cedric Soubeyras.
2. Joe Clayton has been unstoppable in the Pro Lites category.
3. Shaun Mahoney took the 65cc win and now leads the championship.